The Burns Supper is an important tradition for millions of people throughout the world who regularly celebrate their Scottish Heritage. From here in Ayrshire, the heart of "Burns Country", throughout Scotland, the United Kingdom, Europe, North America, Canada, Japan, Australia, Russia, North to South, East to West.......this is an experience to be savoured !
.
. . . . . . . . St. Andrew's Nights, Burns Nights, Caledonian Events, Tartan Day, Highland Games, and other Social Occasions throughout the year enjoy the Fun, Fellowship, Culture, & Ceremony of this great celebration.


For people, who have a "hunger" to learn more, The World Burns Club gives you the answers........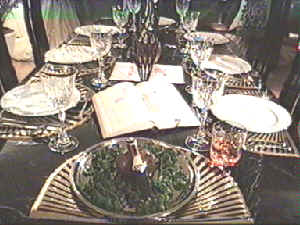 Having read our articles, we hope you may be better placed to have "Your Own Burns Supper." This need not only be a large organised event, as many people host small celebrations, with a group of Good Friends, in their Own Homes.
We hope you can now join the millions of people throughout the World in the Celebration of Burns and Scottish Heritage.
Have a Great Time!
Click below to enter our Archive and find.
"Burns Supper"
(A Guide to The Greatest Scottish Feast)