Auld Lang Syne

Welcome to the Newsletter of the World Burns Club which will be regularly updated to provide information on -
Events - Competitions - News - Member Services - Information - Contributions - Fun and Fellowship.
"Auld Lang Syne" is the world's most famous song..but so few actually know it!
The words are recognised as an international anthem of friendship and representative of Scotland and Robert Burns. Hence the name of our Newsletter !
For more information on this famous song, its meaning and words, click on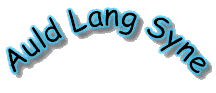 In this issue of "Auld Lang Syne"
The Myth and the Gentle Science
By Samuel K. Gaw
The Day Burns Died
A poem By Kenny Addamson
The Wanderings of Nannies Cutty Sark
By Alex Kraaijeveld
Burns Facts 28 - 30
Irvine, Illness and inspiration by
Dr. James A. Mackay.
Contact Details :-
General -
admin
For Newsletter items and Contributed articles
Mac