BURNS FACTS

Burns Birth Place - (Facts 5-11)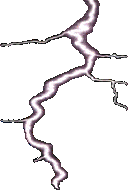 5. Southwest Scotland was hit by severe gales on the night of 4th & 5th February 1759, damaging the roof and gable of the 'clay biggin'. Agnes Burnes and her baby son took refuge with a neighbour till the damage was repaired. Burns alluded to his stormy hansel (literally a celebration of something new) in 'Rantin, Rovin Robin', but the tradition that he cited this as prophetic of his tempestuous life, did not arise till 30 years after his death.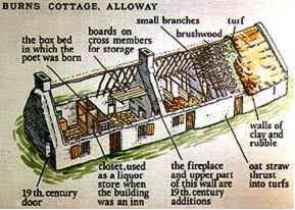 6. The 'auld clay biggin' was erected by William Burnes with his own hands, on a simple plan comprising two rooms, a living room and a kitchen, with a byre (cowshed). The sloping walls were very thick and made of clay covered with lime topped with thatch. Originally only one front window had glass in its upper part, light and ventilation being controlled by wooden shutters.

7. The cottage appears to be in a straight line, but actually curves slightly to follow the line of the road.

8. The main road originally ran along the back of the cottage, and it is thus shown on early paintings and engravings. The road was altered in 1826 to the present line. This explains the discrepancies in early pictures, showing the front door level with the road, or with a winding footpath in front, or with seven steps leading down to the roadway.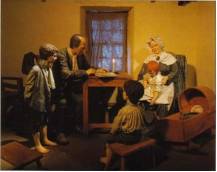 9. It remained the home of the Burnes family till 1765, by which time the two-roomed cottage held three adults (William and Agnes Burnes and Betty Davidson) and four children (Robert, Gilbert, Agnes and Annabella).

10. William Burnes remained the proprietor until 1781 when the land and cottage were purchased by the Incorporation of Shoemakers in Ayr £160. They let it at £10 a year to Matthew Dick who converted it into an ale-house. In 1881 the Incorporation sold it for £4000 to the Trustees of the Burns Monument. It then lost its licence as an ale-house and was subsequently restored to its appearance of 1759.

11. The original Ayr Burns Club, held their suppers in the cottage from 1801 till 1819


Back