Who was Robert Burns & Why all the Fuss?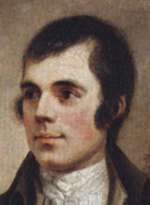 Robert Burns is one of the most famous characters in Scottish Cultural History. His importance is immense, not only in terms of his fascinating story and his work……but as a living tradition, carried from generation to generation throughout the World. Everyone, everywhere, who joins in the celebration of Scotland, Scottish Heritage or Scottish Culture, will witness references to Robert Burns.

For many people who would like to understand the whole "Burns thing", the first few steps can often be daunting. Much of the material available on Burns assumes a certain starting point. For instance, most books on Burns assume that the reader has a basic understanding of Who he was, Where he was from, Why he had such an impact etc etc. As such, there is a vast gulf between books carrying a few scant paragraphs on the basic background, through to the more detailed biographies, which address the initiated or knowledgeable "Burnsian."

For many, (particularly our friends abroad) the first reading of any Burns Poem may well appear as if it has been written in an unknown foreign language! They can read the words and recognise much of it in Modern English,….. but there it becomes difficult! How can newcomers to Burns with no knowledge of the old Scots language possibly begin to interpret, and hence appreciate and enjoy, the great mans work? Of course, the final straw is the spoken word itself…now that I understand….how on earth do I pronounce the words!!

It is our view that many people can potentially be "turned off" when they first pick up a Burns book in the perception that the subject is cumbersome.

The reality should be somewhat different! Robert Burns would be astonished at his fame today, but would be gravely disappointed that so many had access to his writings, yet could not understand his message ! !


Who was Robert Burns? Back

Most will describe Burns as one of the worlds greatest Poets, but this description does not serve him well. He was much more than a great poet.
Robert Burns was born on 25th January 1759, in the tiny village of Alloway, Ayrshire, near to the town of Ayr on the West Coast of Scotland.

His father William, was an extremely poor man and in 1750 had moved to the area in search of work, which he found at Doonholm market garden. (pronounced Doon-Home)
William Burnes, (note the original spelling, pronounced Burn-iss & later changed by Robert Burns himself) was then granted a tenancy or lease over a small area of farmland which he worked whilst continuing in his position as Head Gardener at Doonholm. He met and married Agnes Broun, (pronounced Broon, the old Scots for Brown) a local girl, and built a small cottage at the farm.
(The cottage, now renamed "Burns Cottage", still stands to this day and is a key focal point for Burnsians, tourists & visitors from all over the world)

Robert Burns (often now referred to as "Rabbie") was born in this sparse little cottage, the eldest son of a poor peasant farmer. Life was extremely harsh and the farm was not succeeding. Even as a small child he was to work long hours with his father, and many evenings were spent huddled round the fire listening to his mother's stories and his father reading from the bible.

The little cottage was twice extended to accommodate a growing family,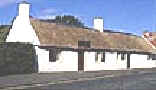 (eventually 4 boys & 3 girls) but in 1765 William Burnes was granted a lease over the nearby farm at Mount Oliphant. Later, in 1777, the family finally moved a few miles to Lochlie farm (pronounced Lochlee) near Tarbolton.

William Burnes recognised the importance of Education and together with other friends, contracted the services of a local teacher, John Murdoch. At an early age, it was apparent to Murdoch that the young Robert showed the potential of a gifted scholar, ………but to what extent?

For Robert, the combination of poverty, hard work on the farm, story telling, the influence of the Kirk (or Church), his studies, and a tremendous ability to observe life in general, was the making of The Man. He would develop a wicked sense of humour, a controversial frankness decrying hypocrisy, a tender & thoughtful creativity, an alleged thirst for drink, a deep Nationalist pride in his beloved Scotland, and an insatiable passion for Women.

Burns died on 21st July, 1796 aged 37 at Dumfries in the South of Scotland. During his short life he would aspire to great things. After his death, he would become legendary, or as some would say, immortal. His immortality runs deep in the veins of all Scots, perhaps unknowingly, and he has evolved from mere man to being symbolic of all things Scottish. He is now one of the great cornerstones of modern Scottish History and the significance of his memory is celebrated throughout the world.

What made Burns Famous ? Back

Burns' rise to fame began in July 1786 when at the age of 27, his first work was published by John Wilson at Kilmarnock in Ayrshire, entitled "Poems, Chiefly in the Scottish Dialect" Whilst this book (now known famously as "The Kilmarnock Edition") was the catalyst for his celebrity status, it was far from being the sole contributing factor.

Robert's motivation for publishing his work was initially financial although undoubtedly, being an egotistical man, he relished the thought of seeing his poems in print.

He had been courting a local girl, Jean Armour, (later to be his wife) who had become pregnant by him, and as it was then, the girls father and the local community were outraged. Such was the sway of opinion against Burns, he became deeply dejected and was intent on emigrating to Jamaica in the West Indies. The publication of his work was to pay for his passage, ……..but events changed and this was not to be.

The simple unbound book, covered in unassuming "plain blue wrappers" (which was limited to only 612 copies) was to reach the Socialites of Edinburgh, where it was met with curious wonder. Not only were the literati astounded at the quality of the work, they could not perceive that an apparently ignorant farmer could write in such a manner. Little did they know………..

As a boy student under the teaching of John Murdoch, and later, by his father, Burns would excel. It was clear even then that he was of considerable intellect, as he threw himself eagerly into Shakespeare, Pope and other masters. He was a driven lad who would constantly read, particularly the poetical works and novels of the time. Influenced and deeply motivated, he had been writing creatively since an early age, with his first piece, "Handsome Nell", (a poem about his first love, a girl called Nellie & the first indication of his eye for women) having been written when he was only 15. He was by now fluent in French, spoke Latin, studied philosophy, politics, geography, theology & of course, the Bible. He was an accomplished mathematician and would in later years add significantly to his impressive list of subjects. These achievements must be considered in some perspective to fully understand the "oddity" that was Robert Burns. Son of a poor farmer, country boy, & peasant……….quite simply he was a genius of the highest intellect……….and Robert knew it!!

"Poems, Chiefly in the Scottish Dialect" was considered to be one of the greatest poetical collections ever written. Its appeal was obvious not only to the educated, but importantly, to the common man just like Burns himself.

Now he had roused the fascination of Edinburgh Society who sought his company, and Robert's true fame had begun. No doubt, the initial interest in him was of novelty, but for those who met him, his presence was powerful.

Make no mistake,…… Burns played the part! His dress was smart, but not of the highest classes, thus perpetuating his image. His mannerisms were confident, polite & ingratiating, although often abrupt or rude. His conversations were enthralling. Interestingly, even the men described him as an attractive chap with a commanding presence and flashing brown eyes. It can be seen why he was popular with the ladies. Burns took Edinburgh by storm & had effectively achieved today's equivalent of stardom.

By now the celebrity poet was writing profusely and a second publication of his work took place in Edinburgh, which included additional material. (You will find this publication referred to as the first Edinburgh Edition)

What was special about his work & why is it so popular? Back

Well, there are numerous ways to answer that, but for me:-
Firstly, and most importantly, Burns work is the continuing story of an ordinary Scotsman, his background, his encounters, his observations & thoughts. His poems & letters give a detailed account of the life & times, culture & politics of the day, all of which are readily apparent. His words still ring true today within the Scottish Nation and rouse the great passions for which Scots are famously known, at home and abroad.

Secondly, the content, quality, interpretation and variety of his work is quite remarkable. When you understand the words, which can in fact be quite simple to do, it's easy to understand the whole piece. (unlike same other poetic Masters whose works still then require deep thought) Remember, Burns wrote for himself, his friends and his fellow countrymen, not just the academics!

Finally, and briefly for those more academically gifted than I, it is clear that the very structure of Burns poetry is unusual in itself Just try looking at the phraseology & rhythm to any of his poems.
Burns composed hundreds of songs, poems and letters over a 22 year period of his life. Most were entirely of his own inspiration and some were re-workings of old or lost pieces from time past. Here is a brief introduction to a few of his most famous :-
(Clicking the link on a poem below will take you to the relevant work in the Archive)

Tam O'Shanter (simply meaning "Tom from the village of Shanter") This is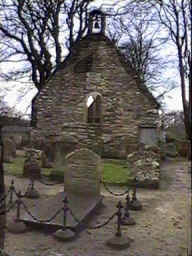 considered his great folklore masterpiece, a chilling & fantastic story in which Burns describes his friend Tam O'Shanter, whom, being the worse for drink makes his way home on horseback, astride "Meg" his trusty stead. The tale describes Tam's thoughts as he travels the road on a wet & wild night. On passing the Auld Kirk (old church) at Alloway, he believes he has witnessed the Devil himself, hosting a wild party within the sacred building, together with witches & ghosts. The story is vivid in imagery and serves to remind the reader of the effects of over-indulgence in alcohol. (The "Auld Kirk" at Alloway still stands today, just a short distance from the cottage in which Burns was born. The little graveyard is the resting-place of Burns' father, William)

"A Man's a man for a' that." (A man is a man for all that) - One of the most poignant of Burns' songs, which draws stark comparison between the rich nobility and the poor peasant. Interestingly, the Socialites of the time did not appear to notice that they themselves were the subjects of Rabbie's scorn. (Nothing has changed today!) The piece is powerful and emotional and describes in the most wonderfully potent yet humbling words, just what makes a true Man.



O' My Luve is like a red, red rose - surely the most famous love poem and a well-known song, which women particularly enjoy. Simplicity itself, short and tender. This poem uses simple easily understood language, which possibly has added to its appeal.


Holy Willie's Prayer - After Burns' disgraceful interaction with Jean Armour resulting in her pregnancy, he was made to stand before the Kirk Session (Church Council) The Presbyterian Church of Scotland held strong influence within the community, and were severe in their views. His punishment - to show public penance in open church for 3 consecutive weeks! Following this most embarrassing humiliation, Burns wrote "Holy Willie's Prayer" in defiance of the hypocrisy he saw within the Church. This piece was also directed at one William Fisher, an Elder of the Church, who had also decried a friend of Burns for not properly observing the Sabbath. The Poets imagination playfully yet angrily suggests a prayer made by Fisher, in which the Church Elder's own indiscretions are defended.

To a Mouse - This poem wonderfully demonstrates Burns' powers of observation, his deep feeling for humanity and his gentle emotion. One day whilst ploughing a field, he notices he has cut through the nest of a small field mouse. This clearly upsets Burns. He then writes down his thoughts in simple verse, as though writing to the mouse, commenting on the destruction he had caused, his guilt and his sorrow. He remarks on the comparison between the pitiful mouse, his own wretched life and human frailty.

Address to a Haggis - One of the most regularly celebrated of Burns's poems, recited at Burns Suppers, St. Andrews Nights or Caledonian Society events, where that most famous of Scottish delicacies "Haggis" is on the menu. Burns thought so highly of the meal that he felt compelled to write of it. Here he describes its popularity and stature as the greatest of foods, drawing comparison with other dishes & foreign servings. He suggests that the Scot who eats Haggis draws great strength from it, setting him above other men.


Willie Wastle - This poem reflects Burns wicked yet hilarious sense of humour. The poem is about a man called Willie Wastle, who had the misfortune to be married to one of the ugliest women imaginable. It is alleged that Rabbie was in fact making reference to the wife of an acquaintance, but that he changed the name in fear of reprisal. This short piece describes in brilliantly comic detail, every visual imperfection of the poor woman's features. Each verse concludes with Burns derogatory summation…."Sic a wife as Willie had, I wad na gie a button for her" (Such a wife as Willie had, I would not give a button for her!!)

Ae fond Kiss - (One fond Kiss) The piece is recognised as one of the most powerful yet

tragic love poems Burns wrote. He wrote this piece for his beloved "Clarinda" The short 3 verses describe the shattering of a deep relationship between two lovers, and the desperate heart breaking emotion and realisation of what might have been….and what no longer can be. In many a tribute to Burns, describing his interactions with the fairer sex, you will hear the lines -
"Had we never lov'd sae kindly, Had we never lov'd sae blindly, Never met-or never parted- We had ne'er been broken hearted"
( Had we never loved so kindly, Had we never loved so blindly, Never met- or never parted- We had never been broken hearted)

Why is Burns so Important ? Back

This is possibly the start of the difficult questions, particularly since Burns means so much, to so many people. In simplistic terms Robert Burns is most certainly one of the greatest poets who ever lived, and is hugely "important" for that reason alone……. but the issue is more complex.

Ask anyone outside Scotland, to name "Something representative of Scotland" and you will often hear things like - "St Andrew, Haggis, Whisky, Bagpipes, Braveheart (!), Kilts, Heather, Sean Connery (!) and of course Robert Burns"

Burns therefore has been adopted as a National Symbol of Scotland……which may in some ways seem appear strange. It must be recognised however (and this is a personal & perhaps controversial opinion) that the "Scots" as a nation, identify greatly with "Burns the Man" It could be argued that our cultural history & heritage has been founded on :- perpetual struggle, conflict, persecution, comradeship, nationalism, and great victories in the face of adversity…….all of which may have contributed to the modern day perception that Scots are :- rugged fighters, standing up for our rights, humorous, friendly, fiery yet gentle, passionate, and incredibly proud.

It can be seen therefore, that in many ways Robert Burns was and still is representative of these characteristics….. as a Poet, in his Writings, as a Person and as a Scot. His fame, as one of the world's greatest poets, makes these points more obvious.

It is no wonder that he has been adopted as Scotland's most "Famous Son"….. It is no wonder that the Scottish Nation has elevated his memory to being a Cultural Symbol of Scotland, …and it is no wonder that millions of Scots & descendants of Scots throughout the world recognise this too.

Why do people Celebrate his Memory ? Back

This is the second difficult question, and is largely answered in the rational in the previous section describing his importance in general.

Setting aside the obvious link between Burns and Scottish symbolism, it is clear that his memory is celebrated for a number of reasons:-

At its basic level, and dating back to the early years after his death, it became apparent that the World had lost one of its greatest literary geniuses. As previously suggested, he had achieved the modern equivalent of "stardom" albeit that his fame at that time could not actually reach today's typical "mass" proportions. It is recorded at that time that many groups of his friends, associates and "fans" would form societies, memorial groups, and of course "Burns Clubs" to preserve & promote his memory through celebration of his life and work. (Documentary evidence of this can be found in our Archive Section)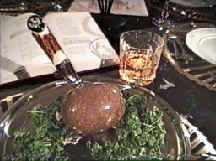 This first recorded Burns celebration was held in July 1801 on the anniversary of his death. Later this would change to the evening of the anniversary of his birth and would become "Burns Night" with the focal point being the "Burns Supper" These "Burns Clubs" were the origins of the Celebration of Burns as seen today. Similarly, Robert Burns would now be celebrated on St. Andrews Day, and at any other social occasion in the Calendar, for those with a link to Scottish Heritage.

At its crudest level, it could be argued that Robert Burns became more famous after his death, in a similar way to modern icons like Elvis Presley, James Dean, JFK etc. Over the years, the decades, and now centuries, the "Burns Phenomenon" gained momentum.

On a general level, the origins of the significant number of first generation Scottish emigrants which subsequently populated North America, Canada, Australia, New Zealand, and the Colonies of Great Britain, coupled with the modern ex-patriate populous in Japan, the Middle East, the Far East, Russia, Europe, and every corner of the globe have taken with them this important cultural celebration which represents their heritage.

The cornerstone of the Celebration of the Life of Robert Burns however, still remains in its purest form here in Scotland.

Why is he so Important in Cultural History ? Back

The final difficult question!….. but to be brief…..Robert Burns is representative of much that is Scotland, not only today, but in Scotland's historic roots.

Like many countries, the Scots have a proud and unique Cultural History….but few countries have claim to a man of such genius, common identity, and worldwide fame and appreciation as Burns. His poems, letters & songs not only demonstrate his obvious ability….they inspire…. they rouse the imagination….. they fuel the heart,….and they accurately represent and depict life in 18th century Scotland.

Not only are his works historically important for the obvious reasons, but also for the less obvious. He is symbolic of Scotland and the Scottish people. He became famous…and has achieved "immortality" which protects and perpetuates his fame today.

Surely a man who achieves this stature, and is celebrated in such a fashion throughout the world is worthy of this elevation.

Why all the Fuss ? Back

The easiest question of all……simply answered…..Why Not?

This article written by "Mac" at The World Burns Club….with reference to information in the book "The Complete Works of Robert Burns" by
Dr. James A Mackay
(7th January 2000)