" Attached is a copy of the genealogy family tree of Charlotte Stuart, the Duchesse 'd Albany, subject of Burns' poem. Additionally, I have attached her photo and the Burns genealogy family tree. She was the last Legitimated Heir to the Stuart Crown.
Her son, few know about, James married Mary Burns - who was a cousin of Robert Burns. (Their Great Grandfather was one in the same, William Burnes).
Sources: Copy of actual parish records, Burns genealogy, sent to me, contracted by Lord Lyon's official researcher, MacGuire, 1996. Paris, France Archives. (Act of Legitimation, Charlotte Stuart) LDS Library, James Wray, Mary Burns US Census Records, National Archives, 1790 & 1800 (Burns & Wray)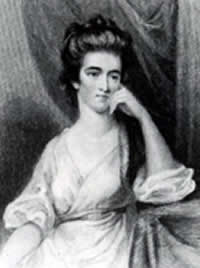 Please feel free to "add the info" to the Poem, "The Bonie Lass of Albanie." Some historical facts included on your site, may lead to more understanding of Robert's reasons for writing about her. She lived during his time, and during the Clearances that Burns' writings reflected upon.
The song version can be obtained, performed by the group, JSD Band, "Pleasures of Plenty" CD. It is the first song on that CD. Lochshore labels of KRL, 9 Watt Road, Hillington, Glasgow G52 4RY

It is a delightful, modern song... but then I have biases for liking it!
- Charlotte is my 6th grandmother."
Shelly
Colorado
United States
...the "other" Highlands!