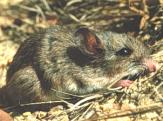 While working in his fields, specific encounters with animals also led to poetry. He wrote that seeing a shot hare "set my humanity in tears and my indignation in arms;"- "The Wounded Hare" was the result. Accidentally disturbing the nest of a field mouse with his plough made him create
"To A Mouse"

It wouldn't have been beauty or compassion that made Burns poetically address a few insects. He wrote "The Book-Worms" in a bible offered by a friend for his inscription and "To A Louse" was inspired by seeing one on a lady's bonnet at church. Had Burns lived today, he might just have written an ode to a much 'lower' form of life than a head louse: - a bacterium .....

Ha! Whare ye gaun'
ye crowlin ferlie?
To understand why, we have to shift our focus to the International Centre for Brewing and Distilling at the Heriot-Watt University in Edinburgh. Research done here is aimed at investigating the biological, physical and chemical aspects of the various processes involved in brewing and distilling. One of the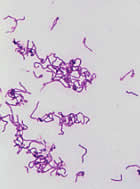 most fundamental processes in the making of whisky is of course fermentation, the initial production of alcohol. Yeasts are the predominant microbes in the fermentation process, but lactic acid bacteria also play a role. To get a better understanding of the exact role of these lactobacilli, recent research by Kirsten Simpson, Bertil Petterson and Fergus Priest surveyed the composition of the community of lactobacilli in 23 Scottish distilleries. They found that distilleries differ in the species of bacteria that can be found in the fermenting wash; this difference could make a contribution to the differences in taste that exist between whiskies from different distilleries.
If you've stayed with me so far, you might start to wonder what all this has to do with Robert Burns? Well, an unexpected result of the research into the lactobacillus community was the discovery of a new species of bacterium. The new species was named Lactobacillus ferintoshensis, in honour of the famous Ferintosh distillery. Ferintosh whisky had an excellent reputation in the 18th century and was highly appreciated by Burns. The effective closure of the Ferintosh distillery as a result of the changes in the Excise laws in 1784 made him cry out in his "Scotch Drink": Thee, Ferintosh! O sadly lost!
We will never know whether Burns would actually have written "To A Bacterium" upon hearing of this new whisky-related species. But seeing such a lowly form of life named after the most famous whisky in history would surely have put at least a smile on Rabbie's face!
P.S. - Thanks to the National Pediculosis Association for allowing the use of the head louse photo from their web-site ! www.headlice.org
Alex.
See also:- http://www.celticmalts.com/edge.htm & http://www.celticmalts.com/journal.htm


Another interesting if not highly unusual article by our Intellectual Burns Biologist, Dr Alex R. Kraaijeveld, of the NERC Centre for Population Biology, Imperial College at Silwood Park, Ascot, Berks. UK.
Thanks again Alex.
"To A Bacterium"
by
Alex Kraaijeveld