FEATURE ARTICLE ON JUNIOR BURNSIAN -
MURRAY STEVENSON
The next generation of Burnsians are the lifeblood of Burns himself. We all recognise the importance of educationand encouragement…..and young Murray is surely testament to that. If any organisation would like to make use of his talents, he can be contacted via the e-mail address given at the end of this article. Here's tae ye Murray!
MURRAY STEVENSON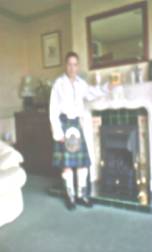 I am fourteen years old, live in the village of Freuchie and I attend Bell Baxter High School in Cupar, Fife Scotland. Among the sports I enjoy participating in are cricket (a must if you live in Freuchie), skiing, football and rugby. As well as being a member of the local Scout group I go to the Air Training Corps twice a week. Of course I am also very interested in Robert Burns and Scottish poetry.
I was first introduced to Scottish poetry at my primary school, which held annual Scots poetry competitions. Reciting my first poem in Primary 3, aged seven, I won the competition for my year group and continued to win each year thereafter until I left primary school. Each year I tackled a more difficult poem, which intrigued me to try some of Burns' works. I performed Willie Wastle in Primary 5 and a girl in my class recited a small extract from Tam O Shanter. When I found out how long and difficult the whole of Tam was, I was determined to learn it all for my last competition in Primary 7. After a lot of hard work I accomplished my task of learning this masterpiece.
Tam O Shanter is my favourite piece of Robert Burns' work because it involves both fun and fear. It took me a long time to work out and research the old Scots words but it was worth it to understand the poem fully. It is a great poem to capture an audience and I thoroughly enjoy performing it.
My performances at school led to requests from local associations to recite at ceilidhs in the area. This in turn led to invitations from local Burns Clubs, where I began with a selection of Scottish poems and then concentrated on Tam O Shanter.