My ancestor James Kerr of St. Michael Street Dumfries was one of 6 persons who entered the Churchyard of St Michaels, at the second attempt, - "there being too many eyes about at the hour of 9pm." - in 1834 on the eve of the burial of Jean Armour.
By the light of a darkened lantern, they entered the resting place and severed the head from the corpse, taking it to the house of James Kerr where a plaster cast was made at the behest of a Phrenologist from Edinburgh. It is said, " after they had passed it up and down the street, and taken their mementoes;…. strands of hair, teeth,….. the head was placed in a lead box and returned to the Mausoleum before dawn". Sounds like a real piece of Scientific Study eh?
Ask yourself one question, do you think Roberts head was in that box?
Anyone like an argument, shall we dig him up, for at least the third time, and see.
The perpetrators of this desecration were assisted by, and protected by the Freemasons, who might know where the head is.
Comment submitted by :-

James Kerr
james@kerrcastle.freeserve.co.uk
COMMENT:-
Hmmmm ! Looking for an argument James? We only enter into friendly debate here…….so "keep the heid" ! Comments on any article always welcome!
Why not debate issues in The Discussion Forum ?
The article James refers to can be found at The Skull of Robert Burns

Mac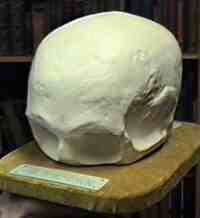 Conspiracy Theory ! - The Skull of Burns

We recently received the following communication:-
Dear Sirs,
I happened by your web site tonight and noticed the article aboutThe Skull of Robert Burns
As someone a bit closer to the action than the writer, I can say this article is an anodyne whitewash of the facts, as is most writings about Robert.
His body was not exhumed at the turn of the century for the pursuance of Medical knowledge.