Congratulations Greenock Burns Club!
Greenock Burns club, known as "The Mother Club" celebrates its 200 years history with a birthday party on July 21 and an exhibition of Burns books and artefacts. On July 21 it will be exactly 200 years since the Greenock club was founded. The club was set up in 1801 by a number of Ayrshire born merchants, some of them knew burns and had moved into the Inverclyde area. They first founded the Greenock Ayrshire Society in 1795 which provided help for the very poor and education for children from poor homes. Neil Dougall, the composer of the tune Kilmarnock, was the first person to sign the club records.
The first Burns Supper was held on January 29,1802, to celebrate what the club believed was Burns' birthday. However, in 1803, a search the Ayr parish records resulted in the bard's date of birth being confirmed as January 25, 1759.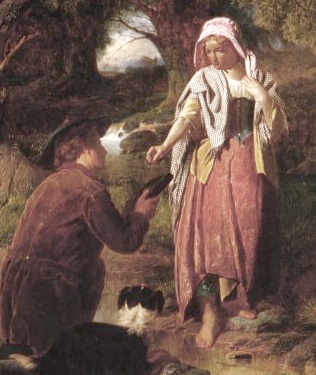 Highland Mary
The original objectives of the club was
"To cherish the name of Robert Burns; to foster a love ofhis writings, and generally to encourage an interest in the Scottish language and literature." Charitable work continues as a priority. The Mother Club still actively encourages local primary schools to participate in annual Burns competitions. During the blitz in 1941, the building in Nicolson Street in which the Mother Club had its rooms was one of the casualties. Many of the treasures were removed for safekeeping and were never traced. The club now has a room for its archives in the Watt Library in Union Street.
The town is also famous for the burial place of one of Burns' greatest loves, Highland Mary, who died of typhus in 1786. In September a week of celebrations will culminate with the arrival of guests from Canada and the USA.
For More information on the club go to their Web Site www.greenock-burnsclub.co.uk