SPOTLIGHT ON

"The Burns Chronicle"
We are delighted to promote the current Edition of the Burns Chronicle, the annual publication of The Robert Burns World Federation Ltd.


A5 Size, 170 pages embracing 35 articles on Robert Burns & Scottish Literature.



This is a MUST for all Burns enthusiasts and provides a variety of well written articles. This years Burns Chronicle includes the following:-
President Joe Campbell
From the Editor
In the Beginning (Greenock B.C.)
"The Mother Club" 1
"The Mother Club" 2
Robert Wilson and The Songs of Burns
An (Alleged) Son of Robert Burns
Robert Burns and Falkirk
Re?Dedication of the Loudoun Spout
200 Club
A Fragment of an Unpublished Letter of Sir Walter Scott
"Sealed in Stone" ? Time Capsule
Robert Burns and The Dumfriesshire Volunteers
Return of Robert Burn to the Castle Inn, New Cumnock
Robert Fergusson
Burns, Thomson and Beethoven
Correspondence between Beethoven and George Thomson.
Agnes Burns Cottage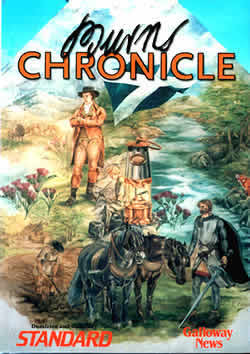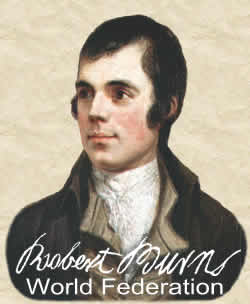 Service at Brow Well
Two Fragments of Letters by Robert Burns
Burns Federation and Return of the Glenriddel Manuscripts
Psychological Vacation Tours of Robert Burns in 1787
From the Literary Editor
The Geddes Burns
Burns Anniversary ? A Poem
North American Tributes to Burns
William Nicol Burns - Patronage
Letter to the Editor
The Gentle Art of the Sculptor- Edmonton Statue
Obituaries

Places of Interest in Glasgow for Burnsians

John Murdoch

An American Poem of the Poet's Poet

The Courage of John Weaver

George Thomson and Robert Burns

New Title for N.A.A.F.B

How I Met Tam O Shanter
THE BURNS CHRONICLE is available from The Robert Burns Federation at a cost of £8.50 (including free postage in UK) plus post & packaging outside UK. To place your order, contact The Robert Burns Federation on the following e-mail address:-
The Robert Burns World Federation

BECOME A MEMBER OF THE ROBERT BURNS WORLD FEDERATION and receive The Burns Chronicle FREE. Annual Membership costs only £20.00. Contact The Robert Burns Federation for further details :-
Robert Burns World Federation
Dean Castle Country Park
Dower House
Kilmarnock
Ayrshire
Scotland
KA3 1XB
Tel / Fax: +44 (0) 1563 572469
Email : The Robert Burns World Federation
© 2004 WBC. Under no circumstances can any of the contents of this site be copied, reproduced, or represented without prior written consent.