Birthday with The Bard
This month, all over the world, the life of one of the greatest legends in literary history is celebrated. In particular, the birth date of Burns, 25th January, serves as the focal point of Burns Suppers. Burns himself only celebrated 37 birthdays before his early death on 21st July 1796. Since then the world has celebrated a further 204 birthdays in his absence, with the 205th celebration this January, a total of 241 years after his birth on 25th January 1759.
What would Burns have made of these birthday celebrations in his honour ?
As a man of considerable ego, he would no doubt delight at his astonishing fame, albeit that the nature and scale of his birthday celebration would be so far removed from the birthday celebrations he experienced when alive. Little is known of how Burns would typically celebrate his birthday and it is interesting to take reference from his famous letters for some clues.
From the known letters of The Bard, he wrote only two on his birthday. The first, to Agnes McLehose (his beloved Clarinda) on 25th January 1788, and the second, to his most prolific correspondent Mrs. Frances Dunlop, on 25th January 1790.
In each of these letters Burns gives no mention of his birthday or how he may have celebrated. Rather, the absence of any mention of his birthday may suggest that he hardly celebrated the occasion at all, nor that his friends seemed to have made much, if anything, of it. One could of course comment that the quiet celebration of your own birthday would not be something to be commented on in correspondence, and this may be the case. However, Burns was an avid writer who commented regularly in his letters, on his recent experiences, acquaintances, meetings and social gatherings. Is it not strange therefore, that he should not mention his birthday in letters to Clarinda with whom he clearly shared an intensely close and emotional relationship? And again, no mention to his greatest "fan" and correspondent Frances Dunlop. No "thank you" for a gift or reference to planned celebration or meeting with friends. It was obviously different in those days.
The letter to Clarinda on his birthday is an important letter in that particular chapter of his life. Two days prior, Burns had overstepped the mark with his amorous advances toward Clarinda and she re-buffed him. It is in this letter of the 25th January, his birthday, he is responding to this situation. He begins: -
"Clarinda, my life, you have wounded my soul. Can I think of your being unhappy, even tho' it be not described in your pathetic elegance of language, without being miserable? Clarinda, can I bear to be told from you, that "you will not see me tomorrow night?that you wish the hour of parting were come" !
Note the reference here to a planned meeting "tomorrow night" (26th) which it is suggested would no longer take place. The letter goes on with Burns trying to repair the damage of his advances two days prior and the pouring out of great emotions. He concludes by advising that he will in fact visit her tomorrow (26th) with his friend Mr Ainslie and finishes, with still no mention of his birthday, by pleading with her to visit him today:-
"I shall hear from you this afternoon, - for mercy's sake! For till I hear from you I am wretched."
What a miserable way to celebrate your birthday !!
It is however very interesting to read the letter to Clarinda the following day (26th January 1788) which begins :-
"I was on my way to meet you, my Love, to meet you ( I never do things by halves) when I got your card"
The letter goes on suggesting that the meeting of the 26th would not now take place but curiously concludes :-
" I could suffer the lash of Misery eleven months in the year, were the twelfth to be composed oh hours like yesternight. - you are the soul of my enjoyment: all else is of the stuff of stocks & stones."

So what could this reference to "yesternight" mean? Did Agnes McLehose meet with Burns on his birthday afterall ? What were they doing that deserved such praise? Were they merely enjoying chatting in each others company….or could there have been more ? Yes, the eternal question arises again. Did he….or didn't he ?? Hmmmm…….It was his birthday after all !!!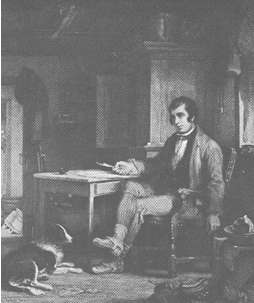 The second known letter written by Burns on his birthday and recovering from illness, was two years later, to Mrs. Frances Anna Dunlop. It is an example of Burns usual exchange of good wishes, but again, no mention of his birthday. However, in relation to his mentioning of the death of Falconer he quotes:-
"Little did my Mother think,
That day she cradled me,
What Land I was to travel in,
Or what death I should die"
A very reflective piece to quote on one's birthday He later goes on to quote :-
"O that my father had ne'er on me smil'd;
"O that my Mother had ne'er to me sung!
"O that my cradle it had never rock'd;
"But that I had died when I was young!
"O that the Grave it were my bed;
"My blankets were, my winding sheet;
"The clocks & the worms my bedfellows a';
"And O, sae sound as I would sleep!"

Was Burns influenced to make these quotation as it was his own birthday ? If nothing else, these few short lines included in this letter on 25th January 1790 are somewhat tragic & prophetic, reflecting a mood of sadness….not joy.
So perhaps Burns never celebrated his birthday as we would today. It is fitting therefore, that if the Immortal Bard looks down to witness the modern birthday celebrations held in his honour, I'm sure he would be overcome with pride, not to mention fully approving of the format !
Happy Burns Day!
© 2004 WBC. Under no circumstances can any of the contents of this site be copied, reproduced, or represented without prior written consent.