Burns Film Progress
Yes…….its true…..the long awaited and much anticipated film of the love affair between Robert Burns & Agnes McLehose now appears to be moving forward at pace. For those who doubted our previous article, please note the "fantasy" is becoming "reality". (see January newsletter article - Burns The Movie)
Simply entitled "Clarinda" (the discrete pen -name of McLehose), the film will focus on the short love affair with "Sylvander" (Burns own secret pen-name). Given the nature of this most fascinating relationship, coupled with the reality that this is surely the greatest love story never told…..there should be plenty of scope for the talented team now being assembled to make this a real blockbuster.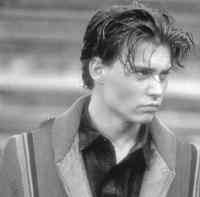 James Cosmo of Braveheart fame, and the key player at Alloway Productions, is still in discussion with Johnny Depp. There appears to be a number of front-runners for the role of Clarinda although no details on the likely final candidate have been confirmed.

Who was Clarinda ? - (an extract from our Letters Archive)
Born 1759, Agnes, daughter of a Glasgow surgeon,(Andrew Craig), was to become the subject of one of the greatest love stories "never told".
Following a whirlwind romance, at the age of 17, "Nancy" Craig married James McLehose, a Glasgow lawyer. The marriage was turbulent and he regularly beat her. Pregnant with his 4th child, she left him and returned to her father. James McLehose retreated to Jamaica, but they never divorced.

Now living in Edinburgh, Nancy met the now famous poet and it appears it was "love at first sight"

Burns first letter to Nancy was on 6th December 1787, in which he is responding to her request to join her for tea ……which he had to postpone for a few days.

Burns was clearly infatuated by Agnes, and she with him. Robert had aspired to being matched with a woman of the higher classes. She was taken by the imagery of the famous, handsome poet of whom everyone was speaking. Given her married status, a true love affair was impossible.

The two now took on the pen names Clarinda & Sylvander to protect their identities in correspondence. Burns tried very hard to seduce her by letter, and many Burns scholars have since argued over the actual extent of the relationship.

One key question is still unanswered….Did he or Didn't he….!!! …..Whilst it would appear from the tone of the letters that it was unlikely "he did"…..no one will ever know.

The relationship cooled and Agnes distanced herself as Rab's literary advances grew stronger….clearly too strong for her comfort and she warned him off. Burns wrote for her "Ae Fond Kiss", arguably the greatest love poem ever written, in December 1791. The final letter to his beloved Clarinda was 25th June 1794. 35 years after Burns death, his beloved Clarinda, now an old lady, wrote in her diary…"This day I can never forget. Parted with Burns in the year 1791, never more to meet in this world. Oh, may we meet in Heaven!" She died in 1841 aged 82.

Clarinda & Sylvander live on. Much has been said and much has been written of this great love story, but only by those knowledgeable or interested in Robert Burns. Soon this story will be told to the World !

A selection of Burns letters to Clarinda are to be found within the Archives

Further information on the films progress can be found at www.robertburnsfilm.com and within our links pages.

Comments welcome in the Discussion Forum !
© 2004 WBC. Under no circumstances can any of the contents of this site be copied, reproduced, or represented without prior written consent.