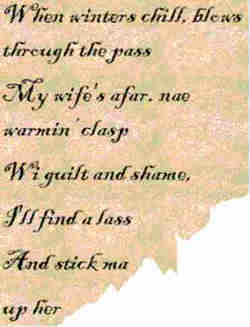 Clearly, not the sort of thing to introduce during a more traditional Burns Supper..but a bit of fun just the same. Burns himself would no doubt have laughed at this one. If you need any evidence of that....try looking at his contributions to the book entitled "The Merry Muses of Caledonia" (An article on this subject will be coming soon) This publication of Burns poetry was "banned" until the 1960's in both the UK and The United States of America! It comprises a large number of bawdy, rude and at times almost pornographic poems and songs, reflecting the "male bar-room humour" of the time. Be warned, this is not one for the ladies!! (The Merry Muses of Caledonia music CD is available in The Laird's Castle)
The last known poem of Robert Burns !
Burns suppers are as much about having fun as they are about celebrating the great man's memory. For a lighter moment during a less formal celebration, someone suggested this to us ! During your Burns Supper, the Chairman announces that he has in his possession the original manuscript of Burns's last known poem. He informs everyone that it was given to him by an old gentleman, who had received it from a friend of a friend who was a direct descendant of Burns. The old man had asked for help to authenticate the find. The chairman then passes round the delicate document, which has obviously been badly damaged over the years.
© 2004 WBC. Under no circumstances can any of the contents of this site be copied, reproduced, or represented without prior written consent.