Ae night , at tea, began a plea,
Within America, man:
Then up they gat the maskin-pat.
And in the sea did jaw, man;

This is a reference to the Boston Tea Party of 1773. Trouble with the American colonists began when North's government decided that they should pay for their defence against French encroachment, the money to be raised by a series of excise duties on, among other things, tea. In retaliation, a group of hotheads in the Massachussetts port of Boston boarded an East Indiaman, newly arrived, and dumped her cargo of tea into the harbour. A maskin-pat or pot was a kettle.

An did nae less, in full Congress,
Than quite refuse our law, man.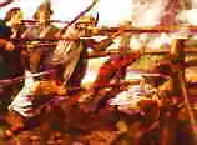 As the situation deteriorated, representatives from the thirteen colonies met in Philadelphia and formed the First Continental Congress which sat from 1774 to 1776 and debated the principle of 'no taxation without representation', out of which came the Declaration of Independence on 4 July 1776. By that time, however, Britain and her rebellious colonies were in a state of war, triggered off by the skirmishes at Lexington and Concord the previous summer and the battle of Bunker Hill in which the redcoats defeated the buckskins but at a very heavy cost.

Then thro the lakes Montgomery takes,
I wat he was na slaw, man;
Down Lowrie's Burn he took a turn,
And Carleton did ca', man:
But yet, whatreck, he, at Quebec.
Montgomery-like did fa' man,
Wi sword in hand, before his band,
Amang his en'mies a', man.

Major-General Richard Montgomery, a native of Ireland and a career officer of the British Army 'sadly and reluctantly' joined the American side. In a bid to detach Canada from the British cause, he led an expedition across the Great Lakes in 1775, but was killed during an abortive attack on Quebec on 31 December that year.

Many Americans were captured by the British forces under the command of Sir Guy Carleton, another Irishman who later became first Baron Dorchester after serving as governor-general of Canada in 1766-78 and 1786-96. In 1759 he had been wounded during the assault on the Heights of Abraham (as a result of which Quebec fell to the British), but was promoted to brigadier for his bravery under fire. Lowrie's Burn, by the way, was the St Lawrence, one of the world's mightiest waterways and hardly a "burn" by any stretch of the imagination!

Montgomery-like signifies that the gallant general behaved in his customary courageous manner. He also figures in 'Address of Beelzebub' in which Burns wished that the Highland emigrants would have 'some Montgomery' to lead them.

Poor Tammy Gage within a cage
Was kept at Boston-ha, man;



General Thomas Gage (1721-87) was the governor of Massachusetts but after the pyrrhic victory of Bunker Hill he took a purely defensive role and was virtually under siege in his governor's mansion.

Till Willie Howe took o'er the knowe
For Philadelphia, man;
Wi sword an gun he thought a sin
Guid Christian bluid to draw, man;
But at New-York, wi knife an fork,
Sir-Loin he hacked sma', man.

General Sir William Howe (1729-1814), the victor of Bunker Hill, succeeded the ineffectual Gage as commander-in-chief of British land forces in North America, his elder brother, Earl Howe, being in command of the Royal Navy. Following his success at Bunker Hill, he marched 'over the hill' towards the rebel stronghold of Philadelphia. The closing couplet refers to his seizure of the rebels' cattle at Peekskill on Hudson in 1776. He captured New York and subsequently defeated the Americans at White Plains and Brandywine, but resigned in protest at lukewarm support from the British government. He, too, is alluded to in 'Address of Beelzebub'.

Burgoyne gaed up, like spur an whip,
Till Fraser brave did fa', man;
Then lost his way, ae misty day,
In Saratoga shaw, man.

General Sir John Burgoyne led an expedition from Canada in 1777, heading southward to join up with Howe's main force moving up from the south. After some initial successes, however, he ran into serious trouble that autumn and was soundly defeated by General Gates in a series of battles near Saratoga where he surrendered on 17 October. Brigadier Simon Fraser, scion of a prominent old Jacobite family, commanded a column but was killed in action at Freeman's Farm.

Although the war was over, the aftermath was bitter, as the different political factions at home wrangled over the debacle. The remaining five stanzas (more than half the total length of the poem) are taken up with the bickering that ensued.

Then Montague, an Guilford too,
Began to fear a fa', man;
And Sackville doure, wha stood the stoure,
The German chief to thraw, man:

John Montague, Earl of Sandwich, was First Lord of the Admiralty during the war, though he is better remembered by posterity for his obsessive gambling. He would never leave the card table to eat, and so invented the snack that still bears his name. The Secretary of State for the Colonies was Lord George Germain (1716-85), third son of the Duke of Dorset. He was forced out of office in 1782 as a scapegoat for the war, and kicked upstairs to the Lords as Viscount Sackville. The 'German chief' was Prince Ferdinand of Brunswick, under whom Germain served at the battle of Minden. Germain's refusal to obey an order cost him the command of his regiment and a court-martial, but he was later restored to favour. Nevertheless, the stigma of Minden remained with him all his life.

For Paddy Burke, like onie Turk,
Nae mercy had at a', man;
An Charlie Fox threw by the box,
An lows'd his tinkler jaw, man.

Edmund Burke (1729-97) and Charles James Fox (1749-1806) were the leading parliamentary orators of their time, and both fiercely opposed the American War. They led the campaign to topple the North administration.

The rest of the poem (click here to view the entire piece) may be briefly summarised as it canters through the political infighting of 1783-4. Rockingham was Charles Wentworth, Marquess of Rockingham (1730-82) who briefly succeeded North as prime minister in 1782 'till death on him did ca' on 1 July that year. On Rockingham's death, King George summoned the Earl of Shelburne but he faced stiff opposition in the House of Commons (Saint Stephen's boys), and was defeated by the Fox-North coalition.
Fox was an even more inveterate gambler than Sandwich, hence the card-playing metaphors of the seventh stanza. The 'diamond's ace, of Indian race' was Fox's East India Bill which 'led him a sair faux pas', a reference to Fox's unpopularity over his alliance with his old enemy North. Then the Saxon lads (the English) with loud placads (cheers) called on Chatham's boy (William Pitt the Younger) who became prime minister at the age of 24. To be fair, he had previously served as Chancellor of the Exchequer under Shelburne.


Then Rockingham took up the game,
Till death did on him ca' man;
When Shelburne meek held up his cheek,
Conform to gospel law, man:
Saint Stephen's boys, wi jarring noise,
They did his measures thraw, man;
For North an Fox united stocks,
An bore him to the wa', man.

Then clubs an hearts were Charlie's cartes,
He swept the stakes awa, man,
Till the diamond's ace, of Indian race,
Led him a sair faux pas, man:
The Saxon lads, wi loud placads,
On Chatham's boy did ca', man:
An Scotland drew her pipe an blew,
'Up, Willie, waur them a', man!'

Behind the throne then Granville's gone,
A secret word or twa, man;
While slee Dundas arous'd the class
Be-north the Roman wa', man:
An Chatham's wraith, in heav'nly graith,
(Inspired bardies saw, man),
Wi kindling eyes, cry'd: 'Willie rise!
Would I hae fear'd them a', man?'

But, word an blow, North, Fox, and Co.
Gowff'd Willie like a ba', man,
Till Suthron raise, an coost their claise
Behind him in a raw, man:
An Caledon threw by the drone,
An did her whittle draw, man;
An swoor fu rude, thro dirt an bluid,
To mak it guid in law, man.

William Wyndham, Lord Granville, the power behind the thrown, was supplanted by 'slee' (sly) Henry Dundas who 'arous'd the class be-north the Roman wa' - a reference to his tight political management of Scotland in the Tory interest for twenty years as Pitt's right-hand man.

The closing stanza is a look at the crisis of March 1784, with the hope that both Scots and English would close ranks behind Pitt who was being treated like a golfball by Fox, North and Co. Caledonia was urged to lay aside her bagpipes and draw her 'whittle' (blade) while the Suthron (English) rose up and cast their clothes for the coming struggle, 'To mak it guid in law, man'. This places the action in the turbulent weeks early that spring when the defeat of the India Bill undermined Fox's majority and forced a general election, resulting in Pitt becoming prime minister.

This is a good example of the sort of 'occasional poetry' which often appeared in newspapers of the period, most of it quite ephemeral. With its deft handling of a complex subject it reveals Burns's mastery of the medium, while its inclusion in the Edinburgh Edition, rather than publication in a newspaper, ensured it a much wider exposure than it might otherwise have received.

Article contributed by Dr James A. Mackay Dr Jim Mackay is one of the worlds leading authorities on Robert Burns. He is author of the acclaimed trilogy "The Complete Works of Robert Burns" "The Complete Letters of Robert Burns" and "Burns A - Z, the Complete Word Finder. In addition he wrote the massively successful "Braveheart" - the factual biography of William Wallace.