Deutsch Tam !
(Tam O'Shanter in German)
The following article was submitted by Alexander Davis of Adastral Burns Club

Oswald Andrae (1926-1997) was an optician who practiced in Jever, Ostfriesland. He was a prolific writer and poet, the vast majority of his work being written in plattdeutsch, the German equivalent of the Scots dialect. Andrae was a great admirer of Burns and his works, and some 20-odd years ago he translated Tam O Shanter into platt. I believe this work would benefit from a wider audience, even though few visitors to this site will be familiar with the language. Just read it - aloud or to yourself - as if it were a form of English, and you may be surprised to find how much you understand, especially if you are at all familiar with Burns' original.
TAM O SHANTER
En Geschicht ut Schottland
von Robert Burns
Aus dem Schottischen ins Niederdeutsche übertragen
von Oswald Andrae
im Auftrage des Veranstalters eines
Burns-Abends in Ostfriesland (1978).
Wenn de Stratenverköpers de Straten verlaat't
un de döstig Kumpanen hör Frünnen noch draapt;
wenn d'Marktdaag ganz kien Ennen findt
un d'Lüü up't Padd na Huus hen sünd;
man wi, wi sitt't, wi drinkt uns Beer.
Dat duunt, - erst sinnig un denn mehr.
Wi denkt nich na, wu lang doch Schottlands Mielen sünd.
Dar ist dat Moor, dat Water un dat Klauterheck,
wat tüsken uns un uns Tohuus noch liggt,
wor Ji uns hibbelig, verdreiht marl Wiewer findt.
Dat Unweer sitt in männich Angesicht.
Dar luurt se denn in't Bett un brött't Vergrelltheit ut.
"So is't!" meen d'ehrbar Tam O Shanter.
He keem van Ayr bi Nacht na't Land her.
(Stolt Mannsvolk, gifft't dat narn mehr,
un Deerns, noch fixer as in Ayr?)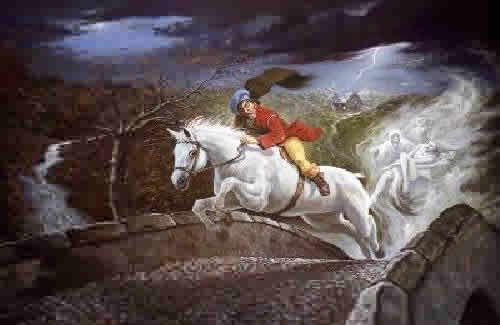 O Tam! Weerst Du man kloog wäan un harrst hört,
wat Dien Fro Kät' Di raden dee, eer allns passeert.
Se segg, dat Du en Schoijer weerst,
en Quasselkopp, en Prahlhans, en versapen Grootmuhl,
de rund üm't Jahr an elke Marktdaag nie recht nöchtern wurr;
harrst lääg'n to Lungern bi den Müller:
bi elk een Updragg harrst Du bi hüm luurt, so lang dar Geld weer.
Un wurr dar mal en Peerd beslaan,
harr naderhand de Smitt tohoop mit Di en gräsigen Taifun.
To Karkgahnstiet - ganz laat an'n Sönndag,
dar harrst Du drunken mit de Kirkton Jean - bit Maandag.
O Tam! Dien Fro, de segg, dat geiht mit Di nich goot.
Mal findt se Di in'n River Doon verdrunken. Denn bust doot.
Mag wään, dat Di bi düster Nacht de Düwel griepen deit,
bi Alloway in d'Kark, dar, wor de Spöök ümgeiht.
Oh, vörnehm Damen, glöövt, mi kaamt de Tranen,
wenn ik bedenken do, wu männich lewe Rat,
wu männich lange Ratslääg van en gode Fro
de Mann minnachtig van sück wiesen deit!
Man uns Geschicht: En Marktdaggsnacht,
Uns Tam O Shanter harr mal wedder Wuddels slaan,
Ganz dicht bi't gnistern Füer weer he Sitten gahn
un drunk sien Beer. Dat schuum so moij. Dat drunk sück goot!
Dat Schoster Johnny ganz dicht bi hüm seet, dat maakt hüm Moot.
Sien alltiet döstig Drinkskumpan bi Sluck un Beer.
Tam much hüm geern, as wenn't sien egen Bröer weer.
Se weern mal duun mitnanner wesen - wäkenlang.
Mit luuthals Singen un mit Snacken: so vergung de Nacht.
Dat Beer wurr bäter, alltiet bäter. Wat en Pracht!
De Wirtsfro wurr ganz fründlich. Tam keem dat gelegen,
dat se mit Moijdoon disse sööt Gedanken krägen.
De Schoster pack verdreiht, vergnöögt Geschichten ut.
De Wirtsmann lach so luut, de Balken wulln sück bugen.
Un buten bruus dat luut. Dat weer de Störmwind, de so reer.
Un Tam O Shanter weer't, de sück dar nich üm kehr.

Vergnügen sind wi roter Moon.
Pflück sie nur ab. Hin sind sie schon.
Fällt Schnee ins Watt in nassen Dreck,
- grad war er weiß, schon ist er weg.
Oder wie das Nordlicht rennt.
Da flitzt es, eh man es erkennt;
oder wie der Regenbogen.
Stürmt es, ist er schon verflogen.
Kien Mann fangt Tiet. Kien Mann fangt Tiden.
De Stünn is dar un Tam moot rieden:
üm Middernacht, de Stünn, de middelst Steen
van dissen langen, swarten Bogen.
In disse düster Stünn sett Tam sück up sien Peerd.
In süxe Düsternis maak he sück up den Wegg!
Dat weer doch anners een arm Sünder nie passeert!
De Wind, de blaas, as blaas he nu to'n leßden Mal,
un Rägenschuers dräwen in den Störm.
En Blitz wurr slaken van de Düsternis:
luut, deep un lang, so bell de Dönner.
In disse Nacht, - dat moot elk Kind verstahn,
so'n marl Geschäft, dat harr de Düwel daan!
Un hoch to Peerd up d'gries Määr Megg
- en beter Peerd, dat geev't woll nich -
jaag Tam dör Water, Muud un Dreck,
keek nich na'n Wind, na Rägen, Füer;
Mal grippt he na sien'n blauen Hoot,
mal reert he luuthals en Sonett,
mal luurt he linkerhand, mal rechts,
dat't unverwar'ns nich spöken deit.
Dar is al bold Kark Alloway,
wor snachts as Spöök de Ulen kreiht.
So jaag he dwarß dör't Water bi de leege Stää,
wor mal in'n Snee de Marktschreejer dootbliewen dee.
Un denn na'n Barkenboom mit dissen groten Steen;
dar bleev Fründ Charly: duun brook he Genick un Been.
Denn dör den Braambusch. Bi de Bülten funn hier gliek
na den Moord en Jägersmann de Kinnerliek.
Un bi den Doornstruuk, dar bi d'Waterstää,
wor Mungo sien Moder sück uphangen dee.
Vör Tam O Shanter suust de Floot van'n River Doon.
De Störm bruust mehr un mehr. He huult un reert dör Bööm.
Dat blitzt un blitzt van Süd na Noord.
Un mehr noch rullt un knallt de Dönner.
Tomal, as weer't in'n Droom, gleuhn dat dör d'janken Bööm:
Kark Alloway seehg ut, as stunn s' in Brand.
Un luut klung dat van Lachen un van Danzen.
Du scharpe Drink John Barleycorn!
Well Di drinkt, hett de Angst verlor'n!
Mit Beer, den dünnen Drank, kriegt wi al Kraasch un Moot.
Mit scharpen Koorn seehgt wi den Düwel in't Gesicht.
Dat schuum man so in Tam sien'n Süper-Brägen.
He harr kien Angst. Ne! Segg mi dar nix gegen!
Man sien Määr Megg stunn stief un röög sück nich.
Un Tam, de geev hör d'Sporen, straak den Hals.
Nu leep Määr Megg vöran, vöran na't Lucht.
He! Tam! - Wat geev dat dar to sehn?
Dar danzen Düwels un de Hexen,
man nich Kadrilljen, wat modern weer,
ne, - Seemannsdanz
un spaßig Trää-Danz in'n Dreeviddel,
un schottschen Danz för flinke Fööt.
So'n Danz, de broch doch Swung in Düwelsbenen.
Up d'Fensterbank, na d'Oostsiet hen,
seet Düwel Nick in Deertsgestalt:
en tapsig Hund: swart, grimmbieterk, groot.
De maak Musik. Dat weer sien Amt.
He dreih un drück den Ton ut sienen Dudelsack.
Dat schree so schrell. De Sparen rappeln ünner't Dack.
Sargs stunn'n in'n Kring, as weren't Klederschappen
- open hör Klappen -, un wiesen de Doden in't leßde Gewand
Elk Liek draag en Lucht in de ieskole Hand.
Oh, Swäwel un Pick! So'n Düwels-Trick!
Nu wurr uns Tam O Shanter gewahr,
wat allens so rümleeg bi'n Karkenaltar:
En Mörder sien Knakengebenen in Käden.
En uphangten Deev, frisch van't Tau affsnäden;
de seehg nett so ut, as japp he na Luft.
Twee ganz lüttje Kinner, de weern noch nich döfft.
Fief Indianerbielen - ganz rot.
Fief Krummsabels, smärig van Moord un van Dood.
En Strumpenband to'n Kinner-Affmurkssen.
En Mest, in en Vader sien'n Hals rinslaan.
Sien egen Söhn, de harr dat daan.
De griesen Haar kläwen kliesterg an't Iesen.
Van Schrecken un gräsige Saken noch mehr,
wat den Schriewer to schriewen verboden weer.


O Tam, dat Du hier ganz kien junge Wiewer hest!
In d'beste Jahr'n, weetst woll, fein schier mit stramme Böst.
Hör Hemden nich ut plusterg, plünnerg Wull,
ne, sneewitt Linnen, fien, wu-t wesen schull.
Diss' Büx hier, eenzigst, de ik antobäden hebb,
de weer eenstmals van't Allerbest,
ik harr se, - rumms! - van'n Liev affräten, ganz alleen,
kunn ik mi up de Stä hier so'n moij Wiev ansehn!
Man schrumpelige Hexen mit verdröögde Böst?
Kien Fahlen kriggt an so en Hexenjütter Döst!
De springt un danzt up krummen Steel, dat't man so geiht
Ik wunner mi, worum sück nich Jo Maag ümdreiht.
Man Tam kenn well. Se weer en söte Pupp.
So'n rassig, knackig Wiev. Süx harr he lang nich küßt.
Diss' Nacht harr hör well engageert för d'Danzer-Grupp.
(Lang Tiet darna funn hör well an de Garrick-Küst.
För männich en Beest keem dar de Dood. Dat Wiev harr schaten.
So mönnich en Boot hett dar dat Wiev versinken laten.
Unwäer broch se, Lü un Land in Angst un Not.)
Hör Unnerrock, dat weer in Paisley maakt groff Linnen.
De harr se dragen, as se noch en Jungfer weer.
In siene Lengde weer he veels to kort un knapp.
He weer hör Best, un se weer vull van iedel Sinnen.
Oh Wiev, wat mal Dien Oma weer, de wuß nich veel.
Den Ünnerrock harr se mal köfft för hör luttk Nannie.
Twee schottsche Pund geev se darför. Mehr harr se nich.
Nu danzt in dissen Rock en Hex mit krummen Steel!
Man nu laat ik mien Dichterflögels hangen.
Süx Flegeree kannst nich van mi verlangen:
to Singen, wu diss' Nannie floog un Sprung,
(en flegend Wiev, ganz wild un vull van Swung);
un wu de Tam dar as en Halv-Behexten stunn!
He troo Sien egen Ogen nich, wat he dar funn.
Ok Saten glotz un beev van Lüst, un snoov
un schüddel suck un blaas, dat't man so stoov!
Dar sprung se hoch un dreih suck drock.
Nu dreih Tam dör. He reer ganz luut:
"Goot! Goot! Du rassig Ünnerrock!"
Man denn tomal wurr allens düster.
Mäar Maggie harr sück nett verhaalt. Se luster.
Dar brook se ut, de höllsche Legion.
So as de Immen biester bruust,
wenn frömde Swarms hör Hüwen plünnern willt;
So as de lurig Voß sück röögt,
wenn - hopp! - de Hasen wegloopt vör sien Nöös;
So as dat Marktvolk rönnt un suust,
wenn dar well luuthals "Hollt den Deef fast!" brüllt;
so rönn Määr Megg, wurr jaagd van d'Hex
mit gräsig Larm un Krieschen.
O Tam! O Tam! Du schast Dien Part woll kriegen!
In d'Höll willt se Di braden as en grönen Hering.
Vergävs luunt Dien Fro Kät' tohuus nu up ärn Mann.
In Elend un vull Jammer geiht se bold to Schann'.
Nu doo Dien Best, Määr Megg, Dien Letzt! Nu holl Di ran!
Bit na den middelst Steen van d'Brugg moot't gahn!
Dar kannst Du mit Dien'n Steert na disse Hex utslaan,
denn över brusen Water troot sück Hexen nich.
Man eerder dat se midden up de Brügg anlangen,
muß al Määr Megg mit sienen Steert dat Undeert slaan!
Hex Nannie, wiet vörut vör't anner Düwelspack,
keem dicht un dichter bi! Gliek seet se hör in d'Nack!
Gliek suus se daal up Tam mit höllschen Düwelssinn!
Man ix wuß d'Hex van Maggie's füerig Natur.
Dat Peerd kunn springen! Kunn den Tam vör d'Höll bewahren.
Dar hett Määr Megg denn bi den griesen Steert verloren.
De Hex kunn't Peerd van achtern faten
un hett dat Peerd denn blots van'n Steert den Stummel laten.
Nu. Well de wahr Geschicht mal lesen deit
- elk Mann ov Moders Söhn! - dat Jo't nich jüst so geiht!
Alltiet, wenn Ji mal döstig sünd,
ov wenn Ji Wiewerschörten findt,
bedenkt den Spaß, de alltiet to betahlen weer.
Vergäät't dat Peerd nich: Tam O Shanter sien gries Määr!
Submitted by:
Alexander Davis
Adastral Burns Club