As one of the UK's leading broadsheet newspapers, The Sunday Times continues to deliver high quality journalism with regular focus on Scottish Arts & Culture, for which they should be applauded. Whilst a few traditional "Burnsians" may well get onto their purist soap boxes over the following article, detailing artist Steven Campbell's portrayal of the Bard, I personally welcome the piece. It is refreshing to see a modern approach to the subject of Burns which is both thought provoking fun and relevant !
The following article by Scottish Arts columnist Phil Miller, appeared in The Sunday Times - 3rd December 2000
---
Burns reborn
as an
Armani Rocker !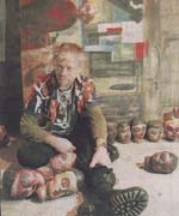 WE know him as the genius in the frock coat. But Robert Burns is about to be redesigned as a clean?shaven, Armani?clad rock star with the gritty charisma of Bruce Springsteen and the mystery of Bob Dylan.
In a new exhibition at the National Portrait Gallery in Edinburgh, Steven Campbell, the modern Glasgow Boy painter, is hoping to change the way we think of Burns and to redefine the image of the "ploughman's poet".
Artist - Steven Campbell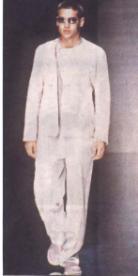 Shorn of his 18th?century sideburns and dressed in designer suits, the new, improved, 21st?century bard is set to be the centrepiece of t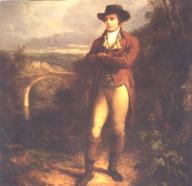 he BED exhibition. This will be a study of troubadours that will focus on Burns, Donovan, the 1960s flower child singer, and Edwin Morgan, the Glasgow poet. It will be part of a series of exhibitions which are aimed at creating a new style of portraiture.
Campbell's series of 25 oil paintings will be accompanied by photographs by Ron O'Donnell and recordings of the three writers' works.
Campbell was part of the Glasgow Boy set of artists, along with Peter Howson and Adrian Wiszniewski, which came to prominence in the 1980s.
He said his imagination had been fired by the recent upsurge of interest in the love life of Burns, including a film based on the poet's romance with Agnes McLehose that was produced by the actor James Cosmo.
Campbell was inspired by what he regards as Burns's modern equivalents ? lyrical rock stars such as Dylan, Springsteen and Suzanne Vega.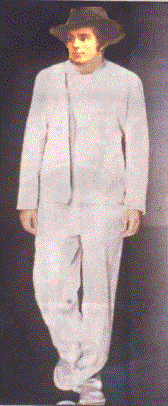 "Burns will be wearing Armani ? he was a very hip guy wasn't he? He would have been a really snappy and fashionable dresser, so our plan is to bring him into modern times," Campbell said.
However, his choice of Armani may not go down too well with Tommy Hilfiger, the leading American designer.

Hilfiger believes that he is a great?great?great?nephew of the poet and a source at his headquarters in New York said: "Of course Burns would wear Hilfiger. After all, it is a design classic with a twist"


Campbell added: "If Burns was alive today he would still be a poet, although he might be a rock star as well ? Springsteen is a poet and a rock star, and so is Suzanne Vega."
Donny O'Rourke, the poet, broadcaster and editor of a new book of Burns's love letters, Ae Fond Kiss, said the poet's achievements and character can survive any representation.
"Burns has been called a punk, a mod and now a rocker. He is an infinitely flexible figure, even in the names he used," he said.
"What we have here is a case of multiple Burns and, although I don't see him as a Bono?like character, the definitive image of Burns will never be posted."
O'Rourke said he applauded the representation of Burns alongside Donovan and Morgan, and added: "Donovan has been regarded as `one of us' in the West of Scotland ? he had a sweetness to him which we could use more of these days."
James Holloway, keeper of the National Portrait Gallery, said he was excited about the project. Dubbed A Life Past, the series of exhibitions will mix different artistic media to add a contemporary edge to the gallery's work.
"Campbell wants Burns to appeal to a younger audience, and I think it will be something new and interesting for the gallery," Holloway said.
He added that the entire gallery room will be covered in the BED paintings, including the ceiling.
Campbell said he chose Morgan, Glasgow's poet laureate, to accompany Burns because he is a "great poet and man".
However, Burns himself may not have been particularly impressed with fine clothes and the vagaries of fashion.
After all, in the second verse of "A Man's a Man for A' That" he wrote:-
What though on hamely fare we dine,
Wear hoddin grey, an' a' that;
Gie fools their silks, and knaves their wine;
A man's a man for a' that.
The BED exhibition is scheduled to open at the National Gallery in October next year.
Article by Phil Miller - e-mail - phil.miller@sunday-times.co.uk
---

Footnote:-
I'm not so sure that I agree with Phil when he says "Burns himself may not have been particularly impressed with fine clothes and the vagaries of fashion". Rather, Burns always sought to turn heads and marketed himself through his "pop star" image of unusual attire, pony-tailed hair and an arrogant presence. This is the contradiction of the man, competing for attention within the socialite circles of Edinburgh, yet preserving his heart felt message to his fellow man. Perhaps more John Lennon than Bruce Springsteen !
What you think ?
Mac
© 2004 WBC. Under no circumstances can any of the contents of this site be copied, reproduced, or represented without prior written consent.