"Nobody thinks to look around the back because it is very unusual for an inscription to be there.
"But he wanted to keep Fergusson's memory alive and it wasn't enough for him to have the gravestone there.
"I was just looking at the gravestone one day, I don't know why I looked at the back but it is amazing, it is out of the ordinary but then so was Burns - he was a genius of his time.
"I want to tell people as much about Burns as possible and this is now an extra nugget which will add to his story. There is still so much we don't know about him."
David C Purdie, president of the Friends of Robert Fergusson, said he would be going to see the message. "I haven't heard about it, what a great discovery," he said.
"I will definitely being going down to have a look. I've been down on numerous occasions but it has never occurred to me to look around the back of the stone.
"This is another bit that we now know about Fergusson."
Tom McIllwraith, former president of the Robert Burns Federation, said the message was a "great homage to Fergusson".
"A lot of people may not know about the wording on the back - and the more people that know the better," he said.
An Edinburgh and Lothians Tourist Board spokesman said: "News of this inscription is very exciting and we are delighted that efforts are being made to raise its profile, particularly since it appears to have been one of Edinburgh's best-kept secrets."
A fundraising campaign for a £30,000 statue to Fergusson has been launched, and has so far collected £6000.
Born in 1750 in a wynd near North Bridge, he was an important influence on Burns from Burns' teenage years onwards. He died aged just 24 in a mental institution.
Thursday, 5th July 2001
Article courtesy of The Edinburgh News

FOR more than 200 years it has stood in memory of Edinburgh poet Robert Fergusson.
But it appears most people are unaware that the well-known tombstone in the Capital's Canongate Kirkyard contains a discreet message from Scotland's national bard, Robert Burns.
The headstone to Fergusson, who was idolised by Burns and a major influence on him, was erected in 1799 after the Bard made a pilgrimage to Fergusson's pauper's grave, and was shocked to find it unmarked.
He commissioned a mason immediately and the gravestone has been a well-known feature of the graveyard ever since. On the front is a verse from a Burns poem. But almost no-one ever bothers to check the back - where there is another inscription, commissioned by Burns, which experts say demonstrates the importance to him of paying a personal tribute to his hero.
The carved words read: "By special grant of the managers to Robert Burns who erected this stone this burial place is to remain for ever sacred to the memory of Robert Fergusson."
Tour guide Chris Tait, who will be talking about the message on a one-off tour on Saturday 21 July, said: "Burns idolised Fergusson but if he had written the message on the front then everyone would be able to see it, so he had his own personal message put on the back.
Regular to the site, Chris Tait managed to hit the headlines in
The Edinburgh News with this story.
A bit of Burns is back in limelight
ANGIE BROWN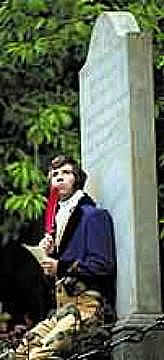 Historic: Robert Burns, left, inscribed a message to the memory of Robert Fergusson on his gravestone, as seen here with tour guide Chris Tait dressed as the Bard