33. DEAR-BOUGHT BESS
Robert Burns fathered thirteen children, of whom five were born out of wedlock, and a further four by Jean Armour before Burns acknowledged her as his wife. The first child was born on 22 May 1785 to Elizabeth Paton, former servant at Lochlie, with whom Burns continued a liaison after the move to Mossgiel. On the baby's birth Burns was inspired to write a poem, now usually printed with the genteel title 'A Poet's Welcome to his Love-begotten Daughter', but which Robert more pithily referred to as 'Welcome to a Bastart Wean'. Although he transcribed it for the Glenriddell Manuscript it was not published in his own lifetime.
34. THREE ELIZABETHS
Dear-bought Bess was the first of three daughters who were baptised Elizabeth. The others were born to Ann Park (31 March 1791) and Jean Armour (21 November 1792). The first Elizabeth was reared by Robert's mother at Mossgiel. Elizabeth II was born at Leith and named after Ann Park's mother, but not handed over to Burns till 1793, when Ann Park was seeking a position as a domestic servant - by which time Elizabeth III had already been born and named Elizabeth Riddell Burns, after the wife of Burns's friend Robert Riddell of Glenriddell.
35. MEETING WITH JEAN ARMOUR

Burns met his future wife in April 1785, when he was crossing the Mauchline drying green and his puppy trampled on linen which Jean was drying. He called the dog to heel and apologised. Jean is said to have asked him, 'Have you found any lassie yet to love you as well as your dog?' with an arch expression that went straight to his highly
impressionable heart. Jean's version (1827) is rather different: 'He had a little dog which ran on the clothes, and I scolded and threw something at the animal. Burns said: "Lassie, if ye thocht ought o' me, ye wadna hurt my dog!" I thought to mysel - "I wadna think much o' you at ony rate!" I saw him afterwards at a dancing-room, and we fell acquainted.'
36. FIRST TWINS
Jean bore twins on 3 September 1786, baptised Jean and Robert two days later. Jean junior died in infancy but Robert lived to seventy, dying on 14 May 1857. Nothing is known about baby Jean whose death was dismissed by Burns in a letter of 25 October 1787 to John Richmond: 'By the way, I hear I am a girl out of pocket and by careless,
murdering mischance too, which has provoked me and vexed me a good deal'.
37. WAS BURNS MARRIED TO JEAN ARMOUR ?
When Jean discovered that she was pregnant, Burns gave her some kind of document which may have been an acknowledgment of her as his de facto wife, or a promise to marry. Unfortunately that 'unlucky paper' has not survived. James Armour, on hearing of his daughter's predicament, took the document to Robert Aiken, a lawyer in Ayr, and insisted that the names of the contracting parties be cut out, in the naive belief that this would nullify the marriage. Aiken went along with this to humour Armour. Had it been a valid contract such mutilation would have had no effect.
38. SENT PACKING
Burns himself thought this this cancelled the marriage. Jean was packed off to relatives in Paisley and he felt that she had deserted him. Worse, in July, James Armour took out a writ against Burns who was forced to flee the parish and go into hiding.

39. HIGHLAND MARY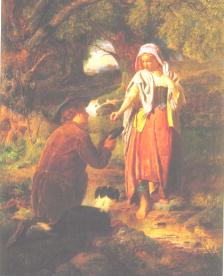 Actually baptised Margaret, she was the eldest child of Archibald and Agnes Campbell, born at Dunoon in March 1766. The family moved to Campbeltown in 1768 and three other children were born there: Robert, Annie and Archibald. Margaret was the byrewoman at Coilsfield and mistress of Captain James Montgomerie before Burns came on the scene. The song 'Montgomerie's Peggy' alludes to this. She and Burns had a brief affair in April 1786, parting company on 14 May. The tale of the exchange of bibles over a purling brook is a nineteenth century invention - the Faile is far too wide for such a ceremony to have taken place. Margaret returned to Campbeltown, then crossed to Greenock in the autumn and died there about 20 October 1786 of a fever.
40. DID SHE DIE IN CHILDBIRTH ?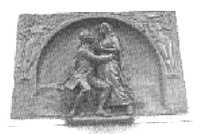 The discovery of infant remains in her grave in 1920 raised a controversy; did she die in childbirth? Unfortunately the Greenock burial records have not survived. Various bids to have the remains exhumed for DNA testing have been bitterly opposed in recent years.
The circumstantial evidence is: (a) typhoid is not fatal in a young person, but pregnancy would have been a serious complication, and (b) attempts to fabricate evidence of another baby interred in February 1827 do not stand up to examination (burials in the west kirkyard ceased long before that date). Burns certainly felt guilt and remorse
over the girl's death, pointing to some factor other than typhoid.
© 2004 WBC. Under no circumstances can any of the contents of this site be copied, reproduced, or represented without prior written consent.