100 BURNS FACTS
Burns Family - (Facts 12-14)
12. WILLIAM BURNES (1721-84)
The poet's father was born at Clochnahill near Dunnottar,
Kincardineshire, trained as a gardener like his father before him, and
worked in Edinburgh before moving to Ayrshire in 1750, settling at
Alloway Doonside in 1754. He met Agnes Brown in 1756 but waited a year
before marrying her in December 1757.
13. AGNES BROWN (1732-1820)
The poet's mother was the eldest of six children born to Gilbert Brown and Agnes Rainie. She died in 1742 and Gilbert twice remarried, having a further three children by each of his later wives. The third wife, Catherine Moat, was several years younger than Agnes, which explains why Robert Burns had no contact with his maternal grandfather.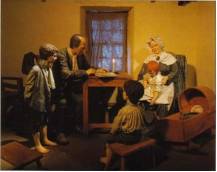 14. THE POET'S SIBLINGS
Robert was the eldest of a family of seven, the others being Gilbert (1760), Agnes (1762), Annabella (1764), William (1767), John (1769) and Isabella (1771). Remarkably, for the period, all reached maturity. John died aged sixteen in 1785, and William, aged twenty three, died in 1790. Gilbert died in 1827, but the three sisters were the longest lived. The youngest, Isabella, lived till 1858.
© 2004 WBC. Under no circumstances can any of the contents of this site be copied, reproduced, or represented without prior written consent.