100 BURNS FACTS
Burns:- The Kilmarnock Edition
(Facts 41-44)
41. Hounded by the Armour family, Burns resolved to emigrate to Jamaica. To raise the fare he decided to publish his poems, mostly written in 1785 but including pieces going back a decade. The most prolific period of his life was the nine months from July 1785 to March 1786 when he wrote over 50 poems and songs. Printing began on 13 June 1786 and on 31 July 612 copies stitched in blue wrappers went on sale at Three Shillings (15 pence or 20 cents) each. The book contained 34 major poems and ten epigrams and epitaphs, and began with 'The Twa Dogs' which Burns regarded as his masterpiece. It was dedicated to Gavin Hamilton, his lawyer and landlord in Mauchline.
42. The cost of printing was £35.17s; sales netted £90 so Burns made a profit of over £54 - far in excess of his claim to have cleared only £20.
43. Burns bought a one-way ticket to Jamaica for nine guineas from James Allen, shipping agent of Irvine. It is not known whether he got a refund when his plans to emigrate were abandoned.

44. As late as 1850 copies of the Kilmarnock edition could be picked up for as little a shilling, but antiquarian interest picked up from 1859, the poet's centenary year. In 1860 a copy sold at Edinburgh for £3 10s; in 1869 two copies made £10 and £14 respectively at auction. In 1889 a copy fetched £100 for the first time. In 1898 a copy in the original blue wrappers was sold for £590. Ten years later the Trustees of the Burns Monument paid £1000 for another mint copy. The market peaked in 1929 when a copy was sold for £2450 at Sotheby's. During and after the Second World War it dropped sharply and as recently as 1957 a copy sold for only £600. The bicentenary of the poet's birth stimulated renewed interest and by the late 1970s copies averaged about £4000 each.($6000) Recent copies sold by private treaty have changed hands for more than twice that sum.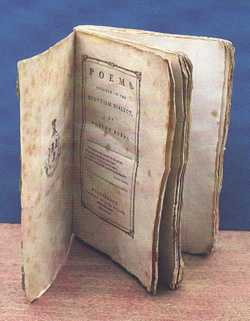 © 2004 WBC. Under no circumstances can any of the contents of this site be copied, reproduced, or represented without prior written consent.