Latest News ......
Honorary president Archie McArthur
Archie now has his own website to publish all of his research over a lifetime devoted to Robert Burns plus his own life-story and that of his late wife Nancy amongst other snippets. www.robertburnsunlimited.co.uk < http://www.robertburnsunlimited.co.uk > Prepare to be amazed!


---
Two Suppers in One Night 3750 miles apart!
The live skype link up, when Kevin Thompson sang for The Minneapolis Twin Cities Club, and which is featured in the Spring 2011 Burns Chronicle on p.21 has generated some interest! I have been asked to post the links to the two recordings so they can be seen here and here. I know some words are not quite as the Bard intended but - it was 2am......
===========================
Click for Ayr Burns Club News
===========================
Older events
The March to Enlightenment - Saturday 23rd April 2011, Edinburgh
The March will celebrate the tricentenary of the birth of David Hume, recognise the contribution of key figures of the Scottish Enlightenment and their role in establishing the freedom to think for oneself. The programme for the 23rd April 2011 is varied and aims to attract a wide range of interests and age groups in celebrating Scotland's history and learning about the 'Scottish Miracle'.
PROGRAMME:
1200 - Gathering: beside the reflecting pools (Scottish Parliament main entrance) to the 'skirl o' the pipes'
1230 - Street Theatre: an enactment of the trial for blasphemy of Thomas Aitkenhead (the last person to be hanged in Scotland), in the lead up to the emergence of the Enlightenment.
1300 - March from Holyrood: up the Royal Mile and to the statue of David Hume (opposite St. Giles Cathedral), accompanied by the leading figures of the Enlightenment.
1330 - The legacy of Hume: key figures of the Enlightenment and what it means for us today; featuring Christopher Brookmyre (novelist) and Professor Alexander Broadie of Glasgow University (a leading expert on the Enlightenment).
================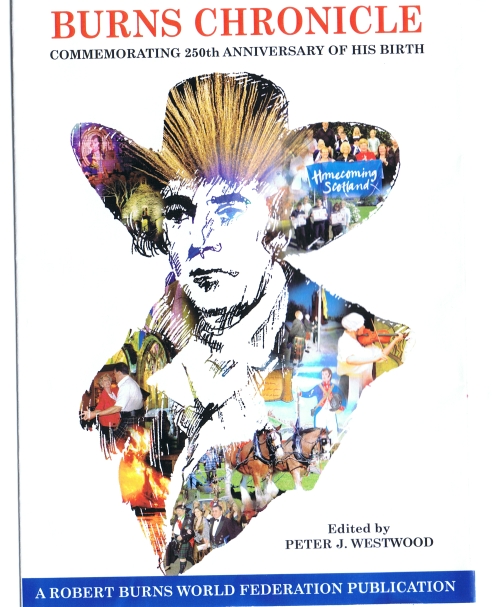 The Special 250th anniversary limited edition of the Burns Chronicle is now available! Including details of many of the events that took place in 2009. With over 700 pages and entries from many contributors including clubs, academics and individuals, this is sure to be popular.
Largest ever Federation publication!

Foreword by Richard Gowring GGG Grandson of the poet

Introduction by First Minister Alex Salmond

Histories of Burns Clubs around the world

Includes a 48 page book on the history of Burns Cottage

Many articles by leading academics eg




Jean Armour's Bank Statement

Jean Armour was illiterate

Who wrote the Selkirk Grace?
Available NOW, for a cost of £25 inc p&p in UK or £30 overseas. Forms were included with the last Chronicle or simply get in touch with Sam Judge at head office, with your details. His email and phone number are on this website. Only 1000 of these are being printed and they are selling fast so order yours now!
Dowload forms here as WORD & PDF
=========================
Hold a Burns Super Supper in your own home and raise money for charity
(all speakers and music supplied!)
Click here to download details in WORD
or as PDF
=====================
Past President Mike Duguid had a very active blog. See links below for some of the postings..